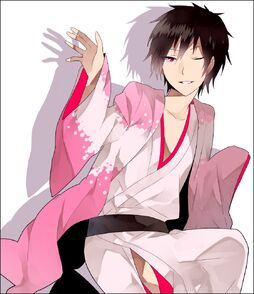 Sakuraya Orihara, came from one of the artbooks that Yasuda-sensei had published called Shooting Star Bebop Side. 
Personality
Edit
Out of all the Izaya's alternates, he's the most feminine character above others. 
Unlike the other Izaya alternates, he's more polite and has good manners. However at times, many fans tend to bring out his mischievous and playful self. 
It might be a possibility that he reflects the gentleness in Izaya. 
Characteristics
Edit
He has a pair of pink coloured eyes, not to be mistaken as Psyche's or Delic's. He has more or a light pink in his eyes compared to the Psychedelic pair.  
Sakuraya's outfit consisted out of a pink and white kind of a kimono, next to Tsugaru's blue and white one. 
Relationships
Edit
Sakuraya is depicted to have more of a gentleness in him then the rest of the alternates, so it would be natural to assume he gets along with most of the others pretty well.
Sakuraya is most often paired with Shitsuo. Their relationship tends to be a fluffy one but not much has been explored between these two.
The relationship shared between Sakuraya and Hibiya is often portrayed as a simple friendship, mostly because Sakuraya is the nicest of the Izaya alternates. They have to share the same butler.