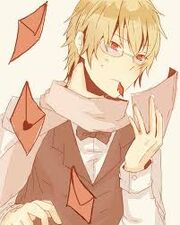 Tsukishima or Tsuki for short. Is mostly depicted as the 'youngest brother' in fanfictions...
Personality
Edit
Fandoms portray him as shy, clumsy, and gets lost very easy. He is hesitant on a lot of things--due to the fact like all the other Shizuo alternatives-- Tsuki possesses enhance strength and this is why he is afraid that he might hurt someone with his ability.
Characteristic
Edit
Tsuki's outfit is the closest to the original. He wears the same bartender suit but with two additional accesories -a long white scarf and glasses.
in fanfictions, he doesn't have a lot friends and is more reserved about love. He is the 'youngest brother' amongst all the other alternative and is the one mostly cared for -especially by Tsugaru. Tsuki gets 'lost' in the literal meaning; unlike Shizuo, who is 'lost' when it comes to how to react in a situation.
Relationships
Edit
In fandoms, Tsuki is mostly paired with Hachimenroppi 'Roppi' Orihara. Their pairing is the most innocent of all of them. Due to Tsuki's shy demeanor and reserveness, and Roppi's dislike of humans. Though Tsuki is the only human that Roppi considers and that he is capable of stopping Roppi from killing himself in many fanfictions.